This is a set of two extensions to add Google Search to your website. The extensions use the Google Programmable Search API.
Google Search – Searchbox
Renders a input field where users can type the search query.
The style of the input field and button is customizable via the properties.
Google Search – Results
Renders the results of the search query.
The behavior and style of the results can be change in the online Google Programmable Search control panel.
More information
https://www.wysiwygwebbuilder.com/googlesearch.html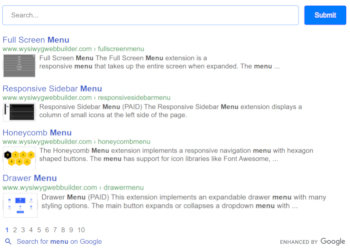 Requirement:
WYSIWYG Web Builder 18
You can also download the new extension via the Extension Manager: Menu->Tools->Extension Manager->Online Gallery->Miscellaneous
This (free) extension is from my private collection. It is provided "AS IS".
Please read the included documentation for help.