News Writer Pro 2.0 has the following improvements:
- Added support for Summernote editor
- Added 'expand' to overflow options. This is useful when using News Writer Pro in flexible layouts. Effectively, this sets the height of the extension to 'auto', so all items will be visible without a scrollbar.
- Compatible with PHP 8
- Improved properties for high DPI displays.
More information
https://www.wysiwygwebbuilder.com/newswriterpro.html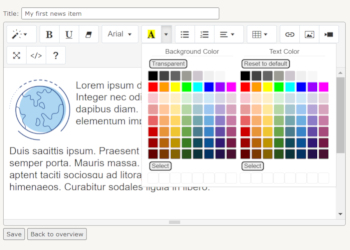 You can also download the updated extension via the Extension Manager: Menu->Tools->Extension Manager->Online Gallery->Content Management
This (free) update is available for users of WYSIWYG Web Builder 18. It is provided "AS IS".
Please read the included documentation for help.