This (free) extension is based on a script by Lea Verou:
https://www.prismjs.com
Prism is a lightweight, extensible syntax highlighter, built with modern web standards in mind.
The prism.js extension makes is easy to add syntax highlighting to your website. It has support for the following languages: applescript ,c, coffeescript, cpp, cs, csharp, css, html, java, javascript, perl, php, python, ruby, sass, scss, sql, svg, swift, xml.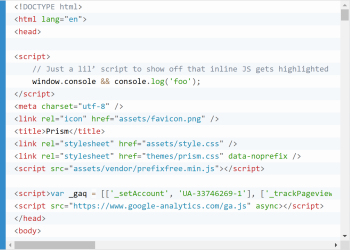 More information
https://www.wysiwygwebbuilder.com/prismjs.html
You can also download the new extension via the Extension Manager: Menu->Tools->Extension Manager->Online Gallery->Miscellaneous
This extension is from my private collection. It is provided "AS IS".
Please read the included documentation for help.
https://www.buymeacoffee.com/wysiwygwb