Inline Frame Re-direct
Description
a simple little extension for users that use Inline Frames (iframes).
What does it do?
This extension will re-direct the user to the main page of your site if you use inline frames
Example/Screenshot
If a user types in the top browser bar
http://yoursite.com/contact.html
....instead of taking them to the 'inframed' page, it will re-direct them to the main page that consists of your inline frame.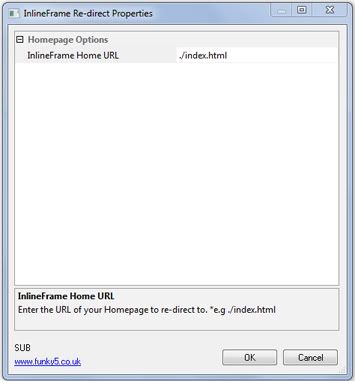 How to use…
Drag and drop this extension, double click to enter the properties and enter the URL of your Homepage to re-direct to. e.g. ./index.html
Download
http://www.funky5.co.uk
Please note:
You have to sign up and log in to download our extensions (its FREE!).
More WYSIWYG Web Builder Extensions available at
http://www.funky5.co.uk
Cheers,
Scott.