Here are a few tips when copying files from one computer to another:
1. Copy all files, including the images they are referring to.
Normally the website files are are stored at this location:
My Documents\WYSIWYG Web Builder
2. It's a good idea to enable the
Let WYSIWYG Web Builder manage images and other files used by a project
option in Tools|Options|Folders, so you automatically have a copy of all your images and other assets in your
My Documents\WYSIWYG Web Builder\ProjectName
folder. Where 'ProjectName' is the name of your project.
If you do not enable this option you will have to manually locate and copy the files used by your project!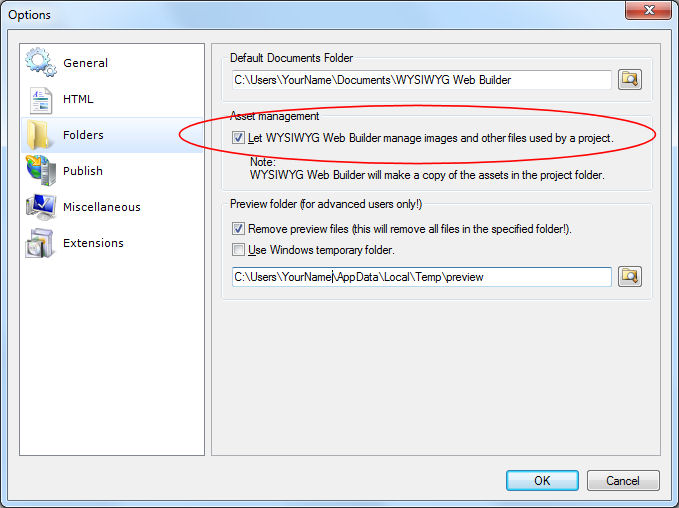 If you've selected this option all you need to do, is copy the complete
My Documents\WYSIWYG Web Builder
folder to CD and it should load ok on another computer.
3. Another way to transfer a page is to save as template. A template is an archive of the page including all images and other objects. Then open the template on the other computer.
4. If your project uses special fonts that are not part of the standard Windows installation, you must also copy these to the other computer!
If a font is not available on the computer then it cannot be displayed...
Important note about extensions
If you are using extensions in your project, you should also copy the images used by these extensions from their original locations. Images used by older extensions are not saved in /images folder.
New in version 5.5 and higher
If the images (and other assets) are in a different location on the other computer then you can also use the Asset Manager (Menu->Tools->Asset Manager) to quickly update the path.