This (free) extension implements an odometer for smoothly transitioning numbers.
The start and end values of the counter are configurable. The Odo Meter starts when it scrolls into the viewport, and it is reset when it scrolls out of the viewport. 6 themes are included, the default theme lets you define a custom size, font and colors.
More information:
http://www.wysiwygwebbuilder.com/odometer.html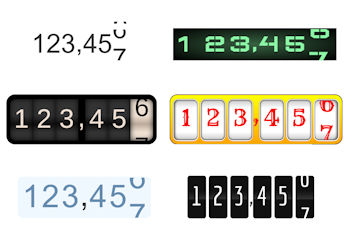 You can download the new extension via the Extension Manager: Menu->Tools->Extension Manager->Online Gallery->Miscellaneous
Please read the included (PDF) document for help.
Note
This is an extension from my private collection. It is shared "AS IS".
If you find my (free) extensions useful and would like me to continue to make improvements or create new extensions, then please consider making a PayPal donation:
http://www.wysiwygwebbuilder.com/donate.html