Lightbox Slideshow Updated ***1/10/11***
***Update 15/07/10***
Update to fix overlay z-index order issue please read pdf
***Update 05/05/10***
A Update to allow users to add there own image buttons throught the extension to suit there own language I have included a selection of premade images to use along with a selection of new loading gifs to be used in the extension...
Please read the PDF
For new dowload see bottom of posting in
red
A big thanks to all who helped provide a translation for image names for the buttons used in the extension you all know who your are



thanks guys without you i would still be using babel translator...
Lightbox Slideshow
by Justin Barkhuff
***18/03/10***
Meets W3C Standards
Built with Extension Builder 2.0.3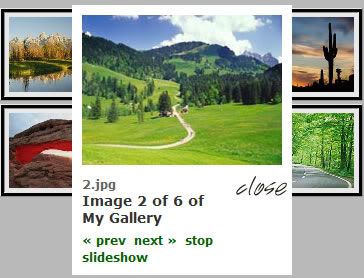 Here is another version of the Lightbox Extension "what not another one I here you all say"

well yes but with a little difference with this you can have it play automatically after the first image is clicked it can also display the caption area to the top or bottom of the image and it also has the <<previous next>> in the caption area as well as having the standard previous, next buttons in the image...

read below for further info
About
Lightbox Slideshow is a simple, unobtrusive script used to overlay images on the current page.
It's basically a better version of Lightbox2. In fact, the technical requirements and installation steps are identical to Lightbox2, but with Lightbox Slideshow, the underlying code is much better and there are lots of useful configuration options.
Here are just a few things you can do with Lightbox Slideshow that you can't do with Lightbox2:
auto-playing slideshow navigate images via 'prev' and 'next' links in the image caption area when browsing a group of images, go from the last image to the first image (and vice versa) this is done by using the keyboard see below for keys to use.
c = close lightbox
p = previous image
n = next image
f = display first image
l = display last image
s = toogle lightbox
move the caption above the image.
Lightbox Slideshow v1.1 by Justin Barkhuff
http://www.justinbarkhuff.com/lab/lightbox_slideshow/
Licensed under the Creative Commons Attribution 2.5 License -
http://creativecommons.org/licenses/by/2.5/
The Extension can be found and downloaded via the Extension Manager in WB7
Download this version allows the user of another language to add image buttons to suit ther own language with the extension...
Updated 19/07/10
Will follow once I have some free time