***Update 05/10/11***
Update to allow the extension to be used with other jQuery Objects or Extensions using the same version of jQuery.
***Updated 10/05/10***
Meets W3C Standards
Built with Extension Builder 2.0.2


***Update***
Snall update to fix a couple of minor bugs new download available at bottom of posting..
***Update***
One time popup is a jQuery script that when placed on your page will open a popup message window when a visitor visits your site but will only be shown once for each visit this is controlled by the use of a small cookie that gets stored on the users PC and when they revisit the site it gets recalled to see if they have already visited and if they have the popup window will not get shown again as they have already viewed. Although this extension is very similar to WB JQuery Dialog it doesnt have the fancy skins but the size, color, etc can be modified to suit what you want.
Screen Image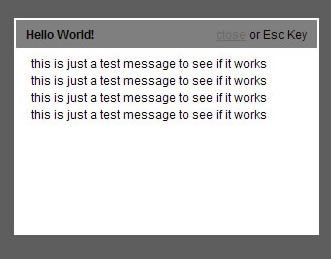 Download
Via the extension manager