Logged In User
ABOUT
A simple 'logged in' extention for use with the Login System in WB6.
IMPORTANT INFO
Add this extention onto your
protected page
using the page extention
.php
WHAT IT DOES
When a user logs in to the protected area it will show 'Welcome: *username'
EXAMPLE:
(This extention is text based, the picture you see is for example purposes only)
Everything is customisable (Text,Font,Size & Color):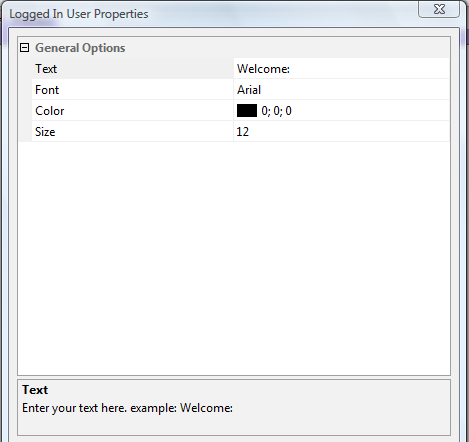 This is a
FREE
Extention available to all WB6 users, hope you enjoy it!
Thanks to Eddie and Kees for help on this Extention!
More to come soon....
please let me know your views and oppinions.
Download Extention:
http://www.mediafire.com/?mtnzhyzehto
-----------------------------------------------------------------------------------
My other WB6 Login System Extentions:
Login System - Logged In User v2
viewtopic.php?t=18538
Login System - Logged In User v2.1
viewtopic.php?t=19209
Login System - Total Members v1
viewtopic.php?t=18607
Login System - Newest Member v1
viewtopic.php?t=19182
Cheers,
SUB