Ultimate Page Scroller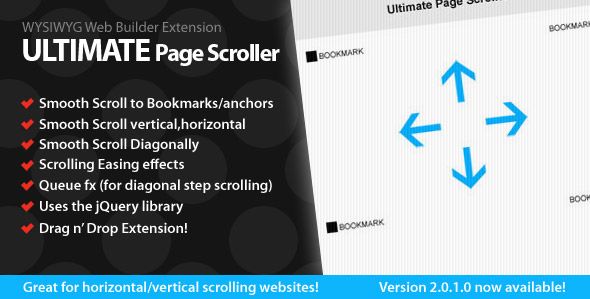 Description
scroll a page to any location using bookmarks/anchors.
What does it do?
This extension will scroll to your bookmarks/anchors anywhere on your screen, vertically, horizontally and even diagonally!
Example
Create a page with height & width of 5000px and place bookmarks anywhere on the screen. Add some text and link to the bookmarks and watch it scroll to your destination.
How to use…
Drag and drop this extension. Add bookmarks to your page and link your text/images to that bookmark. Great for horizontal & vertical scrolling websites!
Download & Demo
http://www.funky5.co.uk
UPDATE 21/03/2012
Added:
Easing effect to the page scroller.
Added:
Queue fx (use steps for diagonal scrolling)
Fixed:
Easier selection choice for directional controls.
Fixed:
Easier selection of Jquery usage.
UPDATE 26/03/2012
Fixed:
Auto selection of Jquery usage.
Credit goes to
supersonictt
for the 'queue fx' idea.
More WYSIWYG Web Builder Extensions available at
http://www.funky5.co.uk
Cheers,
Scott