Object ID Fader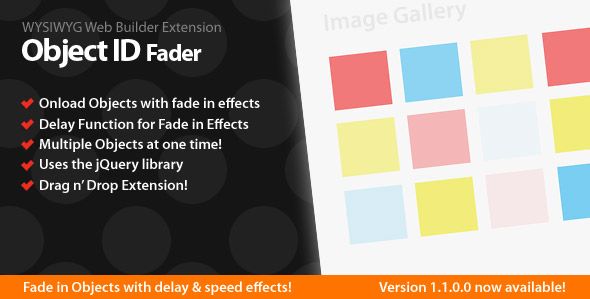 Description
Fade in and display object's on page load.
What does it do?
This extension will fade in Objects on page load with Delay & Speed effects.
Features
Onload Objects with fade in effects
Delay Function for Fade in Effects
Multiple Objects at one time!
Uses the jQuery library
Drag n' Drop Extension
How to use…
Drag and drop this extension, double click to enter the properties and select your Object
ID's to fade in when your page loads, add a delay to each Object to make a great loading
effect!
Download & Demo
http://www.funky5.co.uk
UPDATE
Now works with 'Text' Objects
Special Thanks! go to
presto
for helping and supplying the xsl file to make mutlple objects selectable!
More WYSIWYG Web Builder Extensions available at
http://www.funky5.co.uk
Cheers,
Scott