This extension helps you create attention-grabbing, responsive pricing tables.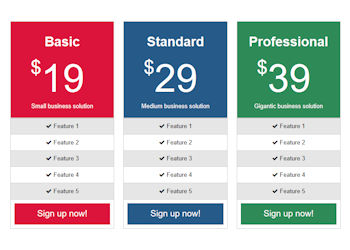 Demo
http://www.wysiwygwebbuilder.com/suppor ... ables.html
Features
• Each 'product' can have a title, description, price, features and a button link to another (more details) page.
• Set a different color for each product.
• Responsive, price tables can be used in responsive layouts (with breakpoints) and layout grids.
• A breakpoint can be specified to switch to 'stacked' mode for smaller screens.
• 5 different layouts and many styling options.
The demo version can be downloaded via the Extension Manager (Menu->Tools->Extension Manager->Available).
Note that this is a commercial extension, it is not free! The demo version is fully functionality, however the properties will not be saved.
More details
http://www.wysiwygwebbuilder.com/pricingtables.html