Some web hosts no longer supported standard FTP because of higher security risks of the standard FTP protocol.
This extension adds the ability to publish web sites using Secure FTP and FTPS.
The following protocols are supported:
• FTP with TLS/SSL (Port 990 - Implicit)
• FTP with TLS/SSL (AUTH TLS - Explicit)
• SFTP using SSH2 (Secure Shell)
After the extension has been installed, you will find the 3 new protocols in the configuration of publish profiles (Edit Publish Location).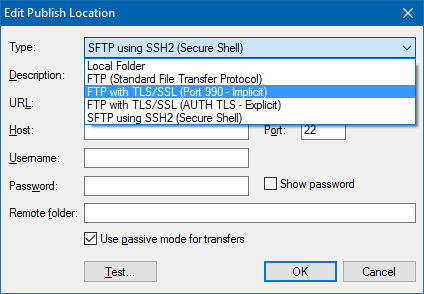 This is a commercial extension, it is not free! The demo version allows users to test whether it will work with your webhost, however it is limited to uploading only 5 files per session. Also it has several nag screens.
The demo version can be downloaded via the Extension Manager (Menu->Tools->Extension Manager->Available).
You can purchase the full version here:
http://www.wysiwygwebbuilder.com/secureftp.html
The technology for this extension was licensed from another company so that is one of the reasons on why this is a paid extension.
Also by releasing it as a commercial extension I also hope to be able to continue the development of this and future extensions.
Please read the help for more details.